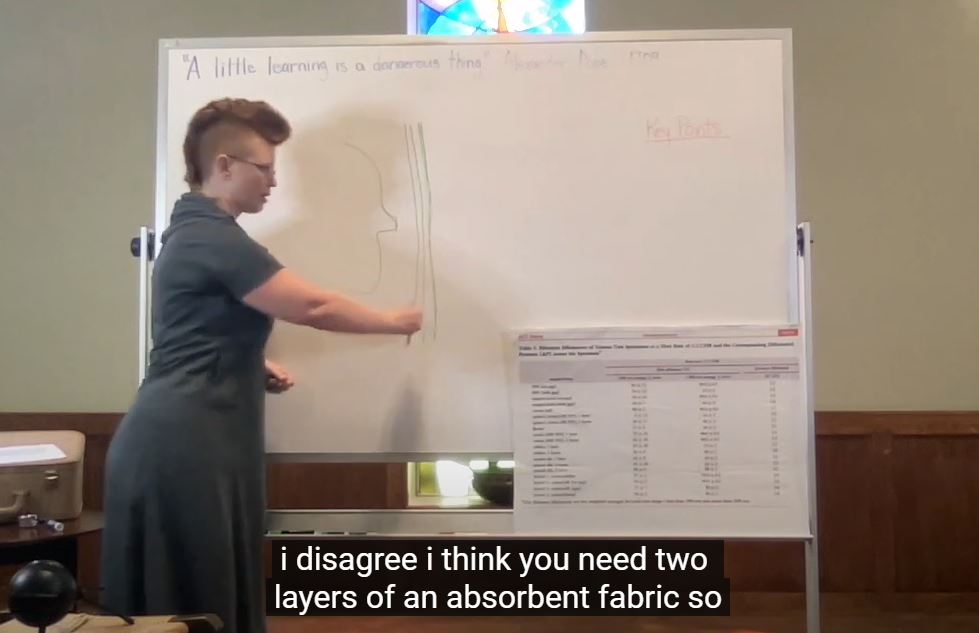 Our local textile expert Keely Wahl explains how you and your loved ones can mask more effectively with a simple strategy: two absorbent cloth layers to keep germs in, covered with one polyester layer to keep germs out. A stretchy polyester neck gaiter can help to solve gapping problems and improve the fit of the inner mask. You can block up to 99 percent of particles with this mask strategy — using only reusable masks, which are better for the earth!
Keely's presentation addresses three problems: proper fitting of masks, keeping germs in, and keeping germs out. Her method expands on an American Chemical Society study of fabrics' relative ability to block nano particles – but with additional knowledge of textiles that the original researchers lacked.
Want a closer look at Keely's chart? Here's the American Chemical Society study, "Aerosol Filtration Efficiency of Common Fabrics Used in Respiratory Cloth Masks."
Pro tips: Do not use fabric softener on your polyester mask; it breaks the electrostatic barrier. A polyester mask is not effective when used alone; layering with an absorbent mask, such as cotton, is necessary.
Masking is a cross-cultural practice that has been used to help control contagious disease for thousands of years. Let's use this easy tool to feel confident in attending church, protecting each other, and nurturing our beloved community.